This article originally appeared on Military.com. Follow Military.com on Twitter.
The days where your time is the Army's time might be mostly gone. Units across the Army are finding extra ways to award soldiers more time off and respect their personal time.
In August, paratrooper formations in Italy and Alaska released new policies which give soldiers a diverse rolodex of options to earn additional leave. Those policies range from incentives for graduating ranger, sniper and jumpmaster school to extra time off for being a top performer on the Army's fitness test, along with extra leave for volunteering.
READ: 31 veteran service organizations offering support for military transitions
There are also fitness challenges such as joining the so-called 1,000 lb. club, a weightlifting contest in which a soldier's combined weight lifted across a squat, deadlift and benchpress has a total of 1,000 lbs.
The new ways to earn leave comes as senior leaders are looking to boost soldiers' quality of life and encourage both fitness and work-life balance. That's especially true in Alaska, where the remote nature of Army bases there and the austere environment can take a serious toll on service members' mental health. It also comes as senior service leadership, including Sgt. Maj. of the Army Michael Grinston, has encouraged unit-level leadership to not wait for sweeping policies from the top pillars of the Army and instead make their own decisions on improving soldiers' quality of life.
The 173rd Airborne Brigade, based out of Vicenza, Italy created a point system where soldiers can earn three and four-day weekends. The policy, released on Aug. 1, incentivizes soldiers to see memorials from the First and Second World Wars, complete college classes, hike more than five miles with 1,000 feet of elevation gain or go on a weekend trip across Europe.
"We're an airborne Brigade in Europe; this should be the best assignment ever! We want our Troopers to have good life habits, make the most of their off time, and invest in their teams," Col. Michael F. Kloepper, the brigade's commander, wrote in a memo announcing the new leave policy.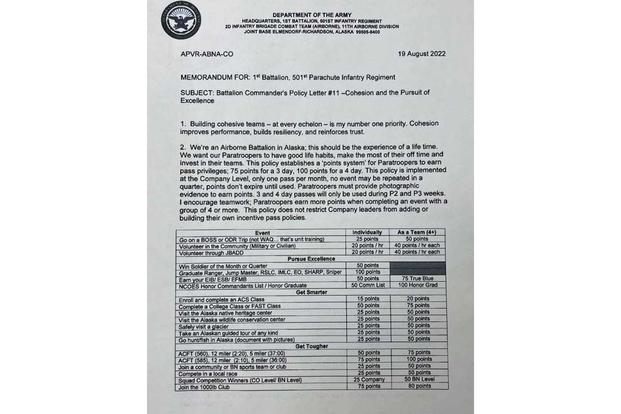 The Alaska-based 1st Battalion, 501st Infantry Regiment, 11th Airborne Division quickly followed suit with a similar policy on Aug. 19, asking soldiers to volunteer in the community, graduate the Army's sexual assault response and prevention course, cross-country ski at least five kilometers, visit the Alaska Native Heritage Center and "safetly visit a glacier."
"We're an Airborne Battalion in Alaska; this should be the experience of a lifetime," Lt. Col. Jonathan Peterson, the battalion commander, wrote in a memo announcing the new policies.
Units are also hoping to better respect a soldier's free time. In June, Maj. Gen. Milford Beagle Jr., commander of the Fort Drum, New York-based 10th Mountain Division, issued a rule ordering commanders and noncommissioned officers to avoid texting and calling soldiers after duty hours, barring an emergency. Garrison leadership at Fort Hood, Texas followed shortly after with the same policy.
"Unit programs like these are a great example of how leaders can incentivize and operationalize positive metrics and help improve the readiness and culture of an organization," Grinston, the service's top enlisted leader told Military.com in an emailed statement.
This article was written by Steve Beynon.
Read comments